Metro Retail Operations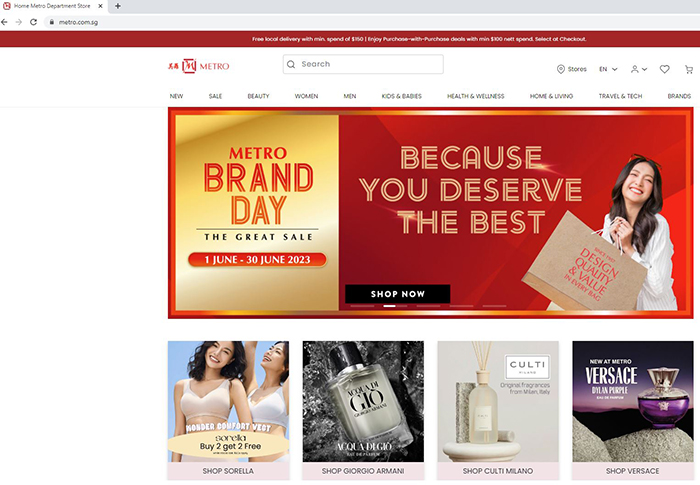 RETAIL OPERATIONS
Since the late Mr Ong Tjoe Kim ("王梓琴") launched his flagship store at 72 High Street in 1957, Metro has grown into a retailer with an established brand name in the region.
Metro Retail is dedicated to continually improving its merchandise mix to provide customers with refreshing shopping experiences. We achieve this through close collaborations with local and international business partners, expanding product categories, and optimising product assortments.
To provide a complete omnichannel customer experience, Metro Retail is undergoing a digital transformation. This transformation aims to meet the evolving buying behaviour and needs of customers. Metro introduced a cross-platform merchandising and selling option to enhance convenience and implement an omnichannel strategy. Customers can now buy, collect, exchange, and return merchandise from any Metro store, regardless of the channel or platform they choose to engage with. This provides a consistent and integrated shopping experience across various touch points, meeting customers' needs and preferences.
In the face of the challenging retail environment, fuelled by rising inflation and an increase in Goods and Services Tax, it is important for Metro Retail to leverage data analytics to gain valuable insights into customer buying behaviour and shopping preferences. This data serves as a foundation for enhancing shopping experience and enables the group to adapt & respond quickly to changing buying behaviour, amidst all the economy uncertainty, by curating relevant products both in-store and online. The focus on customer preferences and data-driven decision-making will ensure that customers can enjoy seamless shopping experiences.
Metro values its loyal customers and rewards them through its Customer Relationship Management ("CRM") program. This platform also enables Metro to innovate and find additional ways to delight loyal customers with curated product offerings.
Metro Retail will continue its relentless pursuit of excellence, striving to provide exceptional shopping experiences and meet the ever-changing expectations of its valued customers.
Metro continues to adhere to the Personal Data Protection Act 2012 ("PDPA"), and ensures that there are proper protocols and processes in place to safeguard its customers' data.
SINGAPORE
Metro Stores
The Group currently has two stores in Singapore under its flagship brand, Metro:
• Metro Paragon
• Metro Causeway Point, Woodlands
Metro Paragon continues to evolve as a fashion store having an array of in-house, local and international brand names while Metro Woodlands continues to serve the neighbourhood community in Singapore's North West District.
On the marketing front, Metro stores are promoted for their best Design, Quality, Value and Services. The Group will continue to build on this principle as the bedrock of its business.
INDONESIA
Metro Trademarks
Metro granted PT Metropolitan Retailmart, which was divested in December 2019 to the Group's existing partner, permission to use its "Metro" trademarks in Indonesia.
OUTLOOK
Overall Singapore retail environment will continue to be challenging, as total retail sales dropped by 8.2% MoM in January 20231 , impacted by the higher inflation-driven costs in raw material, labour and energy amidst a highly competitive trading environment. These factors will continue to weigh on our two department stores at Paragon and Causeway Point. The Group's online retail business continues via Metro Online, LazMall and Shopee Mall.
1 Cushman & Wakefield, Marketbeat Singapore, Retail Q1 2023, 11 April 2023